six couteaux > HIGH-TECH Jean-Philip Orfèvre Le Thiers knives, Box 6 Le Thiers STAINLESS STEEL / CARBON steak knives
HIGH-TECH Jean-Philip Orfèvre Le Thiers knives
Box 6 Le Thiers STAINLESS STEEL / CARBON steak knives
Manufacturer and designer since 1924, John Philip combines tradition and modernity for decoration of the table, excellence and expertise are the rules of the goldsmith who proposes a streamlined version of its " Thiers 140 " in declination carbon: a mix of elegant lines, fine and attractive symbolize this knife with a unique design that sublimate your best tables.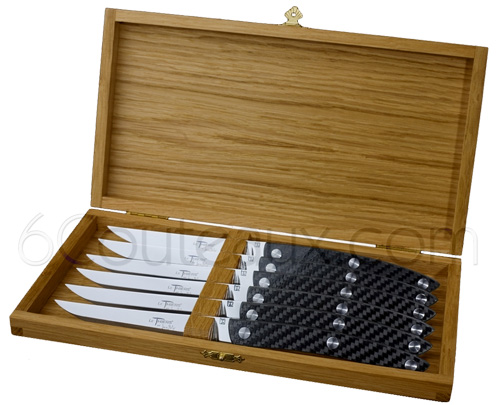 made in France



Gift box 6 LE THIERS steak knives Jean-Philip Goldsmith - stainless steel bright blade and carbon handle
delivered in oak wooden box - suitable for dishwasher

Le Thiers
Born of the reflection of an entire profession, "Le Thiers" bears the name of his city, the capital of French cutlery.
This knife is harmonious lines subject to a Jurandi based on tradition cutlery Thiernois Basin, the charter consists of manufacturing quality and territoriality at every stage of product realization.
The board then valid authorization for use of name and form, which each cutler apply its know-how.
Finally, teachers visitors are empowered to monitor compliance with these rules from the manufacturer, which is a guarantee of quality for "The Thiers and certify an authentic French manufacture.



»
The Standard Knife Collector's Guide:
Identification & Values
from Roy Ritchie, Ron Stewart

»
Levine's Guide to Knives and Their Values
Bernard Levine

»
French Lessons: Adventures with Knife, Fork, and Corkscrew
Peter Mayle

»
Steak Lover's Cookbook