six couteaux > Laguiole forks, Box 6 Laguiole colored acrylic forks
Laguiole forks
Box 6 Laguiole colored acrylic forks
Of contemporary tendency, this new range of forks and knives associates very current colors a very beautiful quality of completion: forged steel stainless, diswasher safe, colours matched...what to brighten your tables with quality !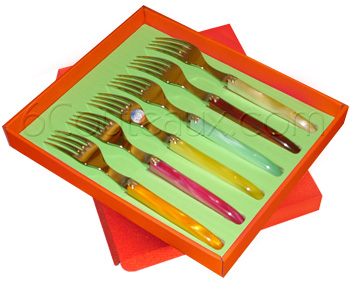 These quality Laguiole forks are forged.


made in France






163.69 EUR

Forks LAGUIOLE design colored handle
box of 6 forks mixed colors handles



made in France


LAGUIOLE forkss - boxes of 6 acrylic forks from same color:



»
LAGUIOLE :
Eloge du couteau
Daniel CROZES

»
LE LAGUIOLE
Une lame de légende.
Daniel CROZES

»
BRAS:
Laguiole, Aubrac, France
Editions
LE ROUERGUE

»
De corne et d'acier:
l'épopée du couteau de laguiole
Un livre de
Daniel Crozes

»
The Standard Knife Collector's Guide:
Identification & Values
from Roy Ritchie, Ron Stewart

»
Levine's Guide to Knives and Their Values
Bernard Levine

»
French Lessons: Adventures with Knife, Fork, and Corkscrew
Peter Mayle

»
Steak Lover's Cookbook