ANNE-SOPHIE PIC and FORGE DE LAGUIOLE
SMOOTHNESS, ON THE RAZOR'S EDGE
"In designing a knife by Anne-Sophie Pic, the most important thing to get across was its uniqueness. This object is instilled with harmony and elegance. The length of the handle means that the blade reaches over large plates. The handle settles into the hollow of the hand, while the fingers control the delicately slicing blade."
, C+ B Lefebvre.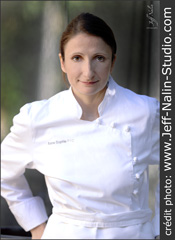 Duck liver pâté from Les Landes, "Rex de Poitou" rabbit, Velay veal with rice – with Anne-Sophie PIC, you can cover all of France and numerous gourmet dishes from around the world. No further introduction is required for Anne-Sophie Pic or her smooth, tasty, passionate cuisine. Head of the famous PIC restaurant, she is the only French woman chef at the top of haute cuisine, and the first woman to receive the distinction of being named "Chef of the Year" in 2007.
To maximise the taste experience, she needed a range of cutlery which could meet the expectations of her culinary creations and her requirements. This was why she wanted to work with the designers C+B Lefebvre and Forge de Laguiole, who have also put their name to the first collection of table knives designed for cutting soft textures and foods.
A stainless steel blade which slices as efficiently as a scalpel, with a handle in ebony or driftwood to emphasize the simple, fluid lines of the object, and the steel oval which suggests the traditional bee.
With the "Anne-Sophie Pic", "Forge de Laguiole" has created a set of knives which are simultaneously beautiful, sophisticated and perfectly adapted to modern haute cuisine.